The Basics of Transcranial Magnetic Stiumulation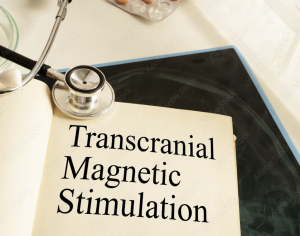 Transcranial magnetic stimulation (TMS) is a non-invasive, drug-free procedure that uses magnetic coils to stimulate and influence the brain's activity. Utilizing a unique mechanism entirely different from the standard array of psychiatric medications, TMS represents an important alternative for individuals who have not responded to other treatment options.
Below are answers to some common questions about TMS.
How Does TMS Work?
Most currently available medical treatments for psychiatric conditions require patients to ingest a drug that eventually enters the brain and alters its functioning in ways that alleviate symptoms of mental illness. For example, selective serotonin reuptake inhibitors, such as Prozac, Zoloft, and Lexapro, latch on to parts of neurons (tiny nerve cells in the brain) and prevent them from reabsorbing serotonin, a change which has been linked to improvements in anxiety, depression, and other conditions.
In contrast to these treatments, TMS is drug-free and noninvasive, meaning its active ingredient is not something that must be ingested or implanted. Instead, TMS impacts the brain from the outside. More specifically, it uses magnetic coils placed just above the scalp to send magnetic pulses into specific regions of the brain associated with mood regulation.

In turn, these pulses induce a series of changes in the brain that improve mood and alleviate symptoms of depression. As Latitia McDaniel, assistant TMS program director at Heading Health states:
By targeting these specific areas of the brain, TMS stimulates and strengthens these neural pathways. Like training a muscle, over time, the inactive signals begin firing and reconnecting properly again, thus restoring the emotional control center.
What is it Used to Treat?
TMS is approved by the U.S. Food and Drug Administration (FDA) to treat the following conditions:
Major-depressive disorder (including treatment-resistant depression)
Obsessive-compulsive disorder (OCD)
Migraines
Smoking Cessation
In addition to being FDA-approved, treatment-resistant depression (i.e., depression that has not adequately responded to one or more antidepressant drugs) is now covered by several insurance companies. At Heading, we work with most insurance plans, from United Healthcare to Medicare to Blue Cross Blue Shield. Click here for a full list of participating providers and to schedule a consultation to determine whether TMS is covered for you. 
Aside from the above-mentioned conditions, researchers continue to examine whether TMS might be useful for other mental illnesses not currently approved by the FDA, including:
Bipolar disorder
Eating disorders
Generalized anxiety disorder
Panic disorder
Schizophrenia
Substance abuse
Post-traumatic stress disorder.
What is the Treatment Like?
TMS treatment for Major Depressive Disorder typically consists of three-minute or 20-minute sessions that occur five days a week over six weeks.
Undergoing TMS is a quick and straightforward process. At each appointment, patients sit in a relaxing chair as the practitioner places the magnetic coil in the correct location on their head. As the treatment begins, patients may feel a light tapping on their head that eventually dissipates. While rare, some individuals may feel some discomfort on their scalp, though this can be resolved by rotating or moving the magnetic coil or through other easy modifications.
After the session has ended, patients are free to drive home and continue their day as usual.
How Does Heading Health Do TMS Differently?
At Heading health, we focus on utilizing the best available tools to ensure our treatments are delivered precisely, reliably, and consistently.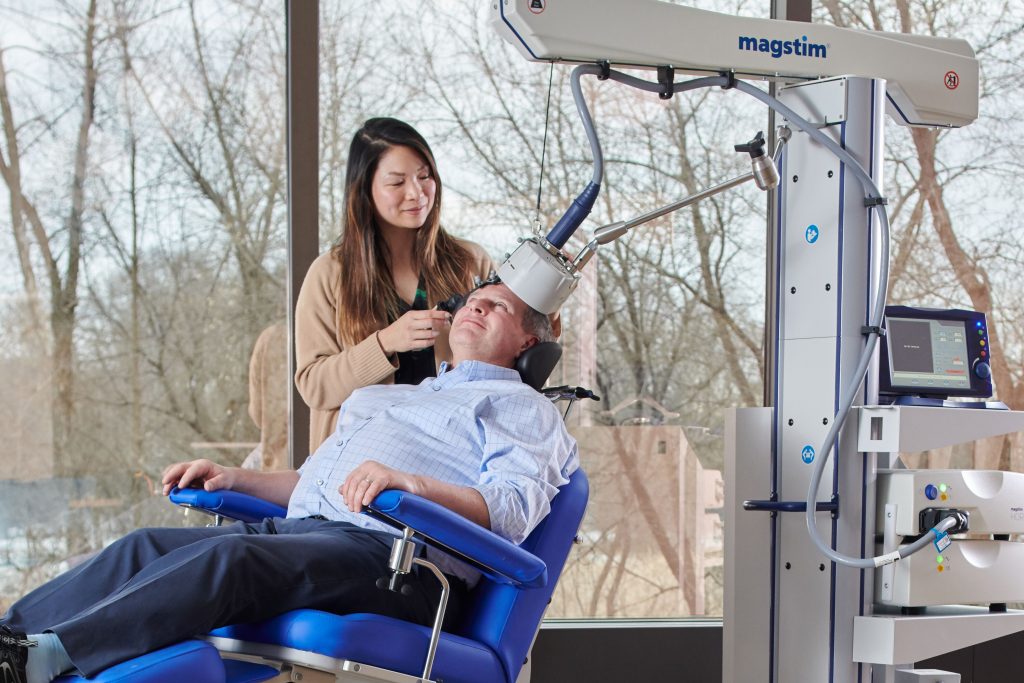 One of the ways we accomplish this with TMS is with the Magstim StimGuide, the first navigational system specifically designed for the clinical market. After the target location has been identified, the StimGuide stores the location using four distinct parameters captured by a 3D snapshot of the treatment area. When administering TMS, this tool helps practitioners consistently identify the target area by emitting a green light when all four parameters are aligned.
In addition, our machines come outfitted with MagStim's E-Z Cool Coil Coil, which has a built-in intelligence cooling system capable of at least a 37-minute protocol.  
Talk with your doctor to determine whether this treatment is right for you, or you can schedule an appointment with one of our team of psychiatrists or therapists to advise you on this or any other potential treatments for depression, including ketamine, Spravato, and TMS. Call us at 805-204-2502 or request an appointment here.
Want to find out if Heading is right for you?
Complete our consultation form and an intake specialist will get in touch.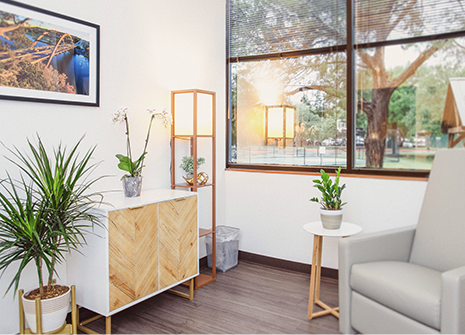 Schedule your consultation