5 Ways Spravato® is Different Than Most Depression Medications
5 Ways Spravato® is Different Than SSRIs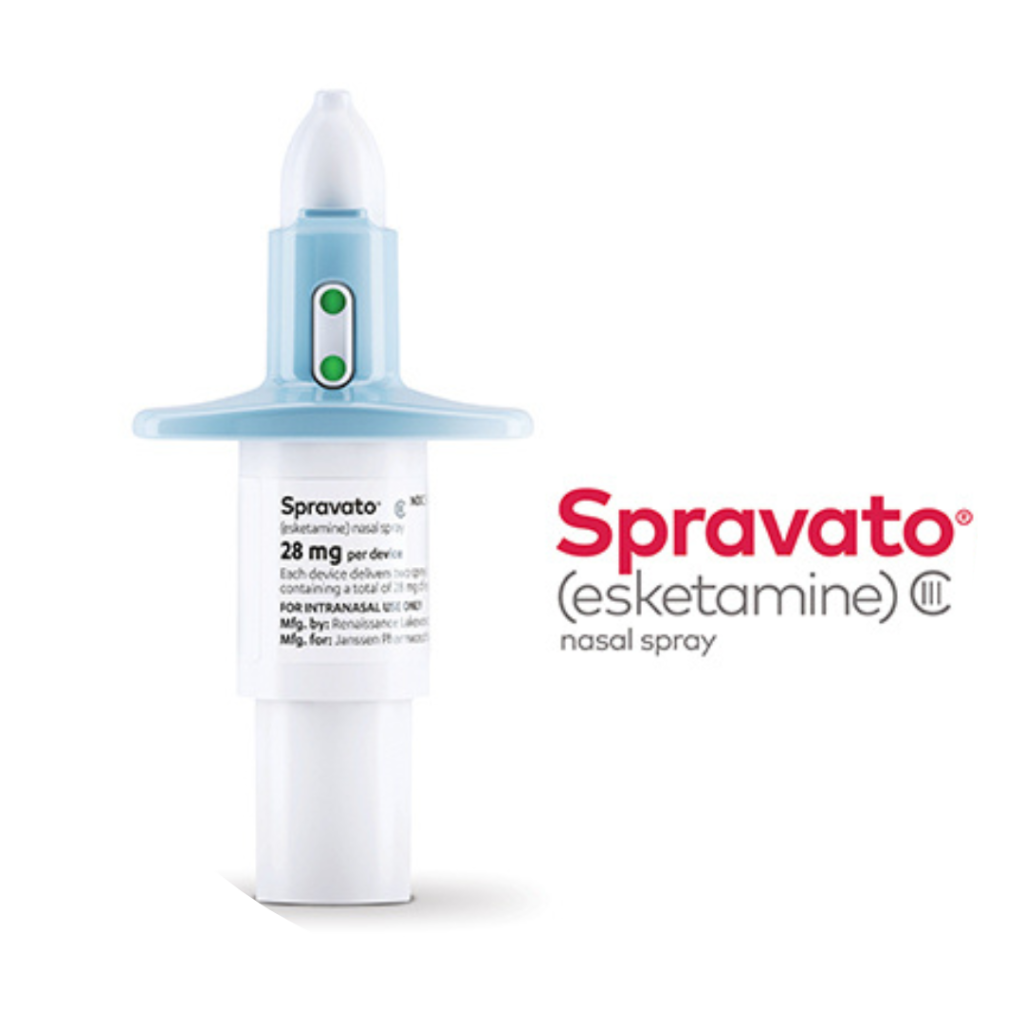 Spravato® is a version of ketamine administered as a nasal spray. It is used to treat a type of depression called treatment-resistant depression. Treatment-resistant depression is a type of depression that is not improved by other medications. Spravato® is different from SSRIs, which are commonly prescribed for depression, in a few ways:
1. How it works:
Spravato® affects a different part of the brain called the glutamate system, and blocks certain receptors to help improve depression symptoms. Whereas SSRIs work by inhibiting the reuptake of serotonin changing the levels of this chemical in the brain.
The glutamate system and the SSRI system are different in terms of their role in the brain and how they affect depression. In simpler terms the glutamate system and the SSRI system are like two different teams in the brain that work in separate ways to help with depression. 
Glutamate plays a role in regulating mood. Glutamate is the most abundant neurotransmitter in the brain and is involved in various brain functions, including mood regulation, cognition, and learning. It acts as an excitatory neurotransmitter, meaning it helps facilitate the communication between nerve cells.On the other hand, the SSRI system focuses on a different brain chemical called serotonin. Serotonin is a neurotransmitter that also plays a role in regulating mood. SSRIs, which stands for selective serotonin reuptake inhibitors, work by increasing the levels of serotonin in the brain. By preventing the reuptake of serotonin, SSRIs help to keep more of it available in the brain, which can improve mood and relieve depression symptoms.
Both systems have different ways of addressing depression, and medications like Spravato and SSRIs target these systems to help people with depression feel better.
2. How you take it:
Spravato® comes as a nasal spray that you use in your nose making the absorption very quick. SSRIs usually come as pills that you swallow.
The nasal spray does of Spravato® are administered after you're seen by clinic or center staff, and a psychiatrist. From there the effect of the medication will start to set in, and the psychiatrist and medical staff will monitory and support the patient during the appointment which typically lasts 2 hours. Those taking Spravato® should have a ride home after their appointment, and have a restful sleep before driving.
3. When it's used:
Spravato is used when other medicines, like SSRIs, haven't worked for depression. SSRIs are often the first choice for treating depression.
Diagnosing treatment-resistant depression involves a full evaluation. Initially, depression is diagnosed based on symptoms and criteria, and some people find successful reduction of symptoms with medication, therapy, or both.  However for some, these first-line treatments don't work. For those individuals, a psychiatrist will assess treatment history, including the types of medications, other interventions, and side effect. From there they may recommend a different type of treatment, like ketamine or Spravato®. 
4. How quickly it works:
Spravato® has rapid benefit with some patients experiencing improvement within hours or days. SSRIs usually require several weeks of continuous use for symptom relief.
The method of taking Spravato®, as a nasal spray, is one reason why patients' feel effects rapidly. However, quicker symptom relief is also related to the way in which Spravato® connects with the brain. Researchers are also studying the ways in which Spravato® improves neuroplasticity, or the brain's ability to change, which can accelerate the relief the symptoms of depression especially when offered in combination with therapy. 
5. Where it's taken:
Spravato® is given in a clinic or center with mental health care experts on hand for you. In contrast, SSRIs can be taken at home  as a daily pill. 
Many patients find the presence of their mental health professionals very comforting. Since Spravato® is a version of ketamine some people may be hesitant to participate in treatment out concern about the psychedelic-like effects of the medication. However, the dosage and care of each patient is closely monitored by psychiatrists, nurses, and medical assistants who are familiar with Spravato® treatment enhancing both safety and efficacy. 
It's important to know that Spravato has risks and side effects, so it should only be used with a doctor's guidance. If you have questions about depression treatments, it's best to talk to a doctor who can give you personalized advice based on your situation.
Connect with care, today!