Ketamine and Alcohol Use Disorder
Alcohol Use Disorder (AUD), a condition characterized by a problematic pattern of alcohol consumption despite physical, mental, and social consequences, is among one of the most common and costly psychiatric conditions. According to National Center for Drug Abuse Statistics, the condition affects around 10 percent of Americans aged 12 and older and is responsible for three million deaths every year.
Because AUD remains a difficult condition to treat, researchers are actively seeking novel therapeutic solutions. Due largely to its well-documented effects on depression, many experts are investigating whether ketamine may prove helpful against AUD. As Professors Celia Morgan and Amy McAndrew note:
Depressive symptoms are common in individuals entering treatment for AUD, and the likelihood of alcohol relapse is elevated in patients with such symptoms.
Ketamine may support alcohol abstinence by temporarily alleviating depressive symptoms during the high-risk relapse period in the weeks after detoxification.
Early experiments have produced promising results, with several studies finding ketamine improved abstinence and lowered relapse rates. For example, one study found that 66 percent of patients with AUD who received ketamine infusions alongside psychotherapy were abstinent one year later compared to 24 percent of patients who did not receive ketamine.
Recent Study Suggests Therapy Makes Ketamine a More Effective Treatment For AUD
While some experts feel that ketamine can be highly impactful when delivered on its own in the absence of any therapy, others feel patients must be supervised and receive guidance from experts during and after treatment for it to be consistently effective. As Rosaline Watts, a leading scholar in the field of psychedelic research, explains when discussing one of her recent experiments, "the drug was a catalyst to the therapeutic process, not the therapeutic process itself."
With the importance of therapy in mind, a team of researchers led by Morgan and McAndrew set out to directly assess the role of therapy in ketamine-based treatments with a focus on mindfulness. In their study, they reason that:
The subjective experiences that accompany ketamine infusions may provide a new perspective that may be helpful in psychological therapy. Ketamine induces a dose-dependent sense of dissociation and disembodiment that has been described as facilitating an "observer state" similar to that described in mindfulness, which may be helpful for allowing patients to consider thoughts and emotions from a more removed perspective.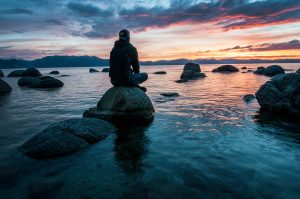 Methods
The researchers conducted a double-blind-placebo controlled study to assess the importance of therapy in ketamine-assisted treatments for AUD. This means special precautions were taken so that neither the subjects nor the experimenters knew what treatment they received, which helps ensure the results are more objective, reliable, and free from bias.
Because the researchers wanted to examine the effects of both ketamine and therapy on AUD, they needed two placebos (i.e., "inactive" treatments), resulting in four possible treatment combinations.
Ketamine infusions with psychological therapy/mindfulness-based relapse prevention
Saline (drug placebo) infusions with psychological therapy/mindfulness-based relapse prevention
Ketamine infusions with alcohol education ("therapy placebo" where subjects were taught general facts about addiction and alcohol use disorder)
Saline infusions with alcohol education
Findings – Efficacy and Safety
After three treatment sessions the researchers noticed several important outcomes. They found the number of days abstinent at three and six months after treatment was higher in the groups that received ketamine either with or without therapy, corroborating findings from earlier experiments.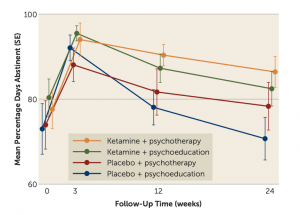 Photo Credit to Professors Morgan and McAndrew
The team found some promising results when it comes to whether mindfulness makes ketamine a more effective tool against AUD. In particular, they found that relative to the subjects that received saline with alcohol education (i.e., both placebos), the group that received ketamine alongside mindfulness-based relapse prevention showed the largest percentage increase in the number of days they remained abstinent. However, the latter finding was not statistically significant, meaning future studies will need to verify that the combination of ketamine infusions with mindfulness-based relapse prevention is more effective than ketamine alone.
Because ketamine has the potential for abuse when used in recreational settings, Morgan and McAndrew sought to assess whether this might make it a less viable option for individuals with AUD. To do so, they tracked whether subjects used ketamine during the follow-up portion of the experiment after the supervised ketamine infusions had been administered.
They found that around six percent of the subjects reported using ketamine on one occasion during this period. Importantly, these individuals stated they had used ketamine recreationally before the experiment. Future studies will be needed to further determine whether AUD puts one at a greater risk of using ketamine outside supervised settings.
Conclusion
Though the research is in its early stages, evidence suggests that ketamine, whether used alone or in conjunction with therapy, may help individuals recovering from AUD maintain sobriety.
As researchers continue to explore and identify new psychiatric uses for ketamine, it is becoming increasingly clear that psychological therapy is required to unlock the full benefits of this treatment. Patients and practitioners alike should bear this in mind as they consider ketamine as a therapeutic alternative.
Want to find out if Heading is right for you?
Complete our consultation form and an intake specialist will get in touch.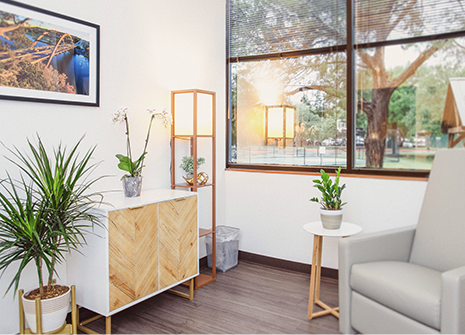 Schedule your consultation